See All Information About
BOW HEAD FLAGS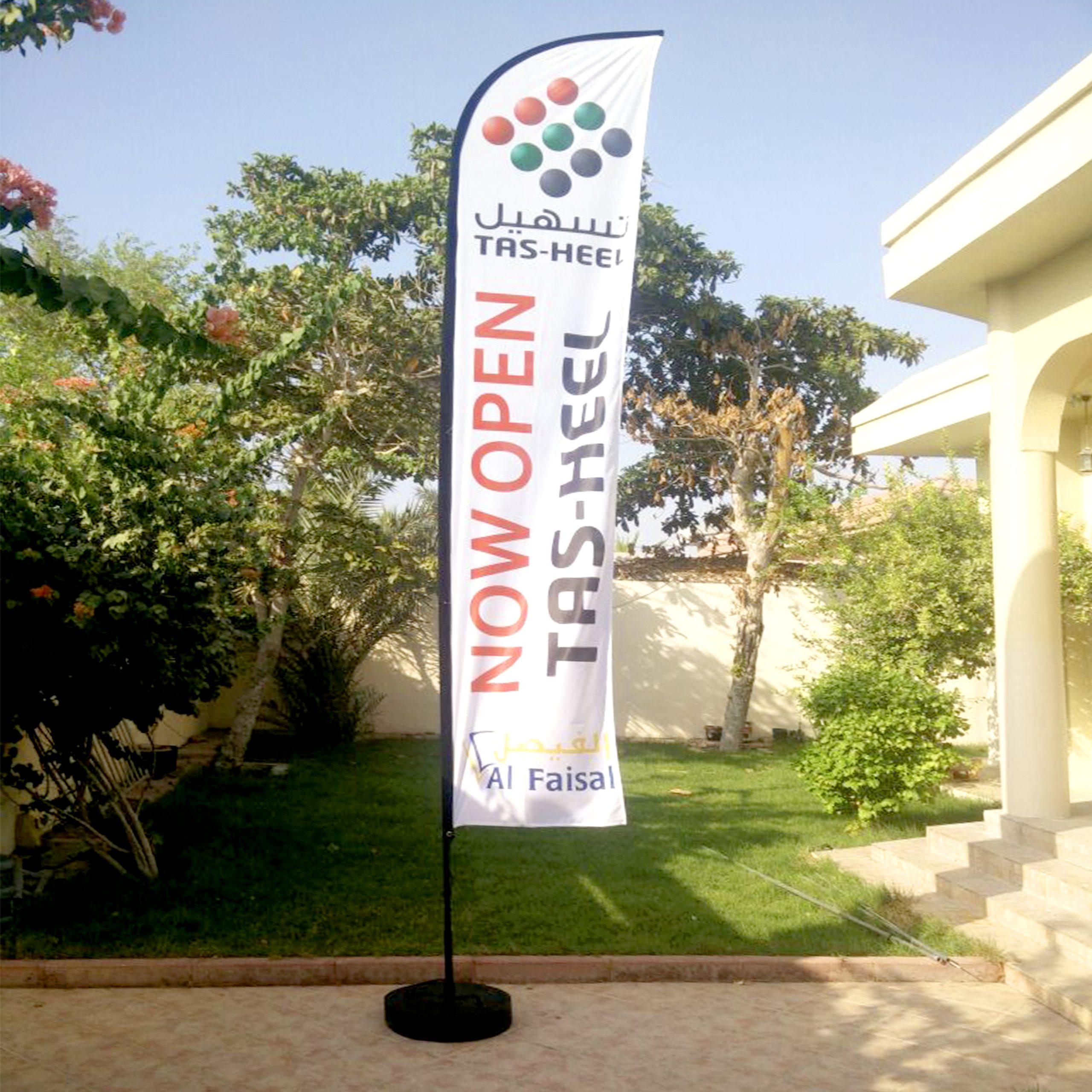 What Is Your Option For Getting the Best Quality Customized Flags?
Being one of the most cost-effective forms of advertising, Bowhead flags allow you draw attention towards your business at any place or event. These flags have a great impact on the customers and are recognised by well-known brands to be a very effective way of advertising.

They feature your business motto and logo and help in directing the customers to your location. They are also used for delivering short promotional messages in an appealing way. We offer high-quality printed flags and banners that are lightweight and portable. They are creatively designed to flap and flash, even when there are zero-wind conditions. Our wind flags are an economical choice for reinforcing your marketing and advertising efforts at events. These bowhead flags are suitable for both indoors and outdoors and can be used for welcoming guests at corporate events, announcing sales offers, and product marketing.
We Make the Ordering Process a Breeze Unlike most companies, we make things extremely easy for our customers. The entire process of choosing the design and template for your feather flag and placing the order is done online. We offer a wide variety of designs to choose from and provide complete freedom to make any changes according to your business needs. With our quick online service, placing your order takes only a few minutes.
Our Bowhead Flags are Durable and Reusable Whether you want bowhead flag banners for your retail store, car dealership, or any other business, our wind flags are the best choice for any purpose. The material we use is of very high quality and is durable. This allows the feather flags to last for many years, saving you the hassle of ordering a new flag every other season when you want to put the same promotional flag as before.
* Graphic Material: Flag Fabric * Graphic Weight:90 GSM * Hardware Material: Carbon Composite Fiber Glass * Single-Sided Printing: Single-sided flags will show the image on the back side as a mirrored image with 50-60% visibility.

Pole Diameter * Highest Pole Diameter:4 mm * Lowest Pole Diameter:23 mm * Base Option: Cross Base/ Spike Base * Finishing: Black pole pocket at left side
Bowhead Flags
Things You Need To Know!
We understand the importance of having the right flag and banner for different occasions. At the same time, we understand the frustrations of the ordering process. Most online printing companies make it extremely difficult for you to decide the design you want. They usually have hundreds of designs to choose from. With us, on the other hand, we have our designers who create custom designs for each customer. This gives you a free hand in deciding what you want. It makes the process a very enjoyable one. Not only that, but we do all the printing in-house. This means we control the printing process right from the start. This makes sure that you get the best design, best quality, and best price.
We bring our customers quality flag print products at prices they can afford. Custom Feather Flags is your one-stop shop for custom flag, banner, and pennant printing. If you are searching for the highest quality, lowest cost, and fastest turnaround time possible, you've come to the right place. Feel free to browse our selection of feather flags, post banners, teardrop banners, and feather flags.
Bowhead Flags are durable yet lightweight and can be reused for many different purposes. Our bowhead flags are collapsible for easy storage and can be easily stored in a closet or attic when not in use, unlike traditional flags that have to be stored and unfurled, then taken down and stored. Bowhead flags are professional-looking, and customers can easily recognize your brand or business.
Bowhead flags are extremely high quality and durable. They can last for years before they have to be changed. Our bowhead flag materials are treated against mold, mildew, and rot. Bowhead flags are also incredibly weather-resistant, making them perfect for outdoor use. Our flags can withstand heavy winds and rains without being damaged. They also have a UV coating that protects them from sun damage.
Bowhead flags are feather flags that are made from premium materials and are double-sided. They are among the most durable flags in the market and are built to last. Bowhead flags are double-sided because of the quality of the material used. They are made out of 100% polyester and are extremely durable. This makes them suitable for even the toughest climate conditions.
Customized
All Types Flags