See All Information About
TEAR DROP FLAGS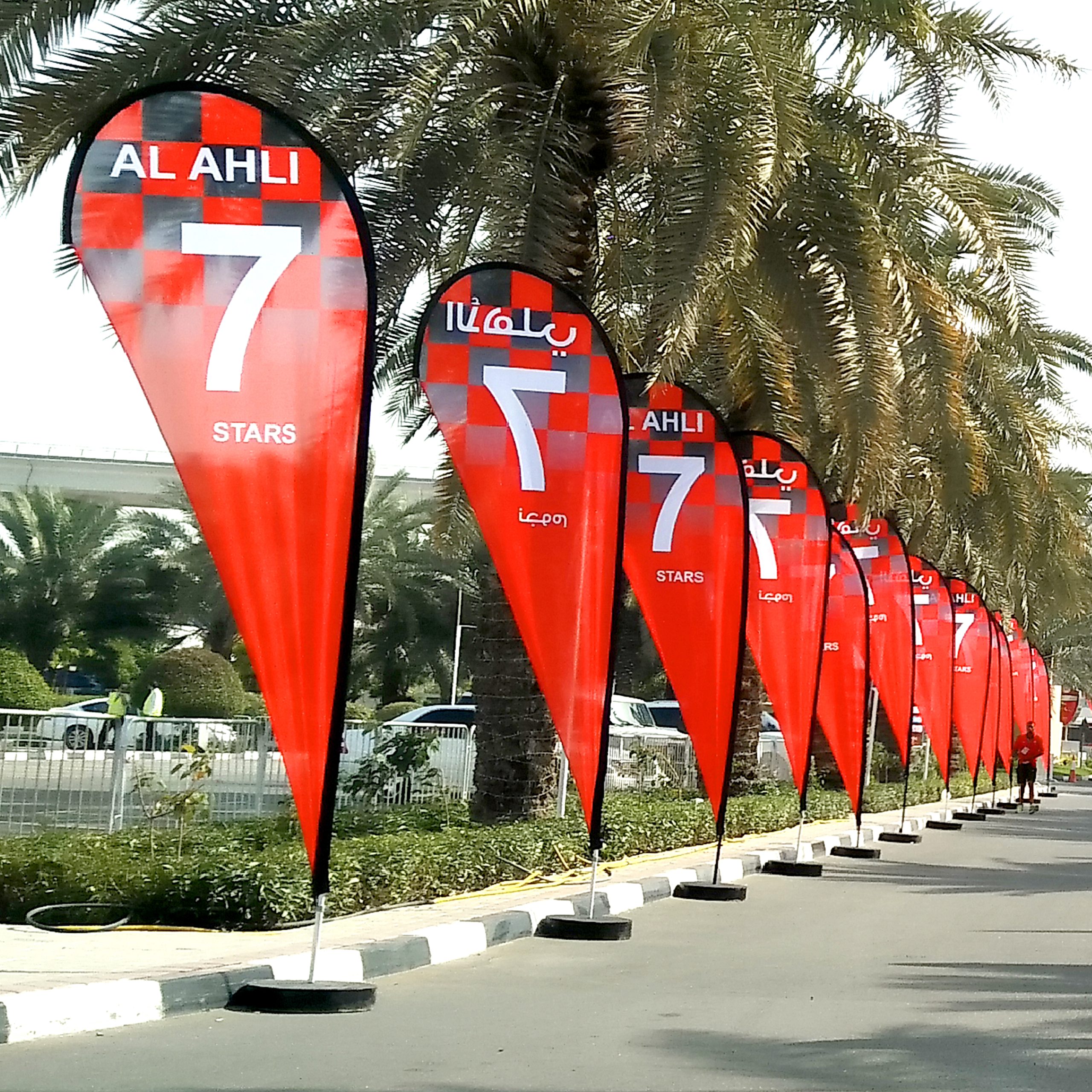 What Is Your Option For Getting the Best Quality Customized Flags?
Like most things in life you get what you pay for with teardrop banners and there is a wide range of quality on the market. Nobody has been making them longer than us as holders of the original patent. This unmatched experience makes us confident that our teardrop banners cannot be beaten for durability and after sales backup.

Originally called the Flying Banner, this style of banner flag is now commonly referred to as a teardrop banner, teardrop flag or even a wing banner. Teardrop Banners are the most popular shape for advertising flags for two key reasons.
1. The shape ensures that the fabric is always tight. This reduces flapping flags endure. Less flapping equals less fraying. This along with the sun is the main enemy of advertising flags. The teardrop shape also means that your branding remains visible no matter what the conditions. Teardrop Banners perfect for both indoor and outdoor events.
2. The inverted shape of Teardrop Banners pushes most of your branding higher up the banner for improved visibility.
As a result, if you want high-visibility advertising the teardrop flag is the right advertising flag for you. Furthermore, a True Double Sided Print increases your exposure even further. Easy to use, long-lasting and visually attractive – it's no mystery why the teardrop banner is one of our best sellers.
Tear Drop Flags
Things You Need To Know!
If you've been looking for the perfect decorative flag, the Tear Drop Flag is the one for you. Tear Drop Flags have been used for decades for several purposes. They make great advertising flags, sports flags, and even political flags. A Tear Drop Flag is also an ideal accessory for every car display or event. They are also a significant political banner used to show support for any cause.
Tear Drop Flags are also a great addition to any outdoor occasion or tailgating. Retail stores and restaurants also use them as a point of advertising.
Tear Drop Flags represent the most effective method to display your patriotic spirit as well as show your support. Designed in rich reds and blues, this flag boasts gold accents to give the banner extra flair. This banner makes an excellent decoration for an outdoor party or display on a pole. You can also hang this flag on a wall, as the gold hangers are included. The solid plastic design makes it simple to move around. This flag is also available in other colours and sizes.
Flags like these are the ideal method to show your loyalty and love for the country we live in. They offer your support, but they are easy to fly and have durable fabric and poles.
Teardrop flags are an ideal way to convey a message. However, to create a message, you must purchase quality teardrop flags that will stand up. Teardrop flags are an attractive and fun way to advertise your business.
Teardrop flags can be easily customized with complete colour customization to bring your logo and branding to life. This promotion is perfect for conventions and trade shows, outdoor events, grand openings, festivals, or any other business that needs to promote its brand.
Teardrop flags are a great marketing tool that most people have probably seen. They're practical, affordable, and once they catch a customer's eye, they stick there.
Teardrop flags are made out of lightweight material, like ripstop nylon, and they are printed with your message in full colour. They're great for all events, but rental companies love them because you can use them more than once and sell them for less than the cost of renting.
Customized
All Types Flags